Crowdfunding for FFV1 support in VirtualDub fork
This is a fundraising campaign for adding a long desired missing puzzle piece to the ecosystem of FFV1: An application (for Windows, based on VirtualDub) that allows not only to capture directly to FFV1, but also transcoding to/from other popular formats with an easy to use graphical user interface (GUI).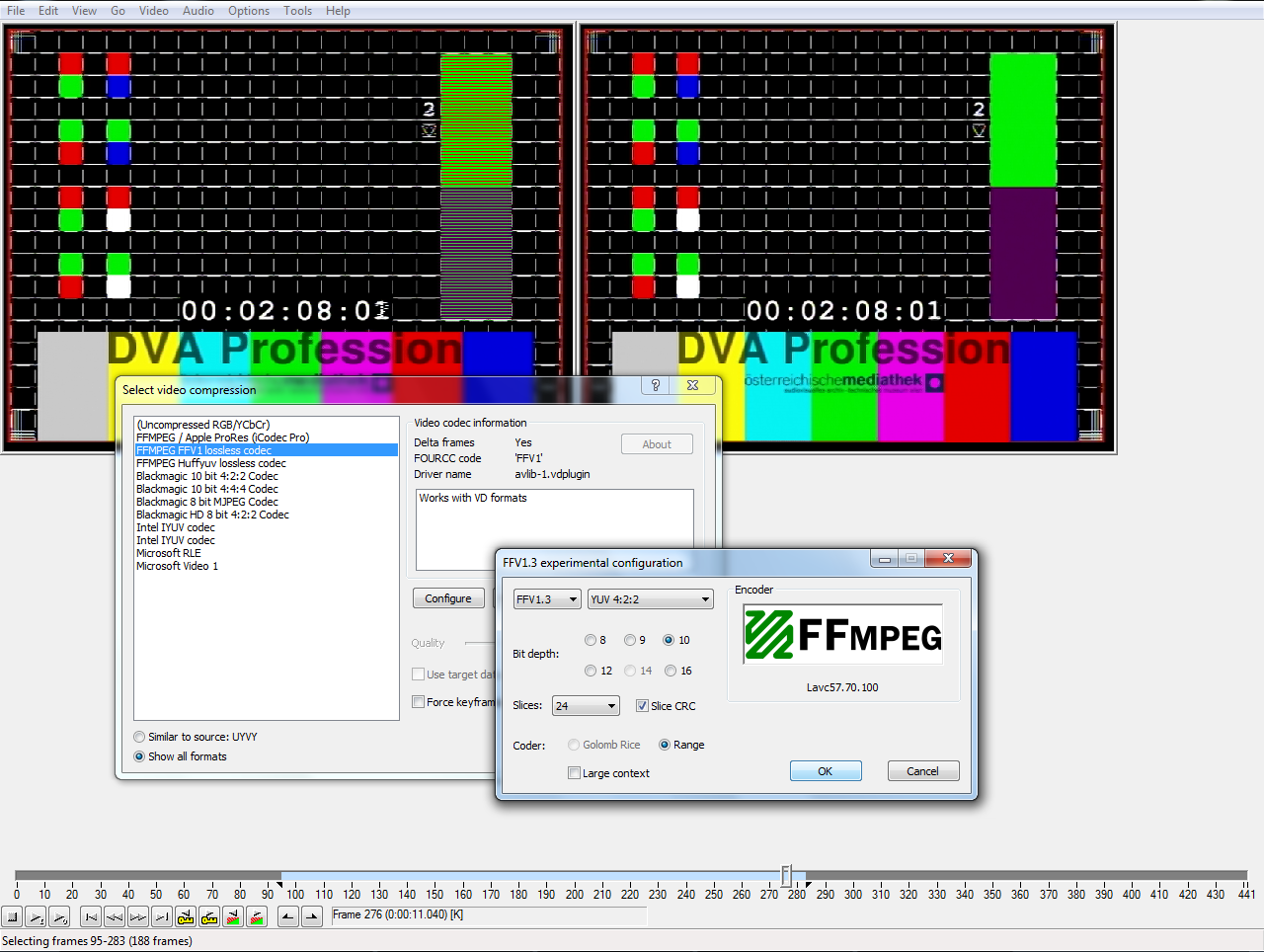 ---
UPDATE:
Current Status (November 11th, 2018)
The good news is:
The development of the "Virtualdub FFV1" version is completed and stable for more than a year now :)
It is already used in production since July 2017 by some sponsors without problems.
Although the crowdfunding only reached 2/3 of its goal, we still wanted the improvements to go back upstream. Therefore, we now offer a "Redhat/CentOS"-like model:
You can download Virtualdub2 for free (=CentOS), but if you want tested versions with support you can buy subscriptions (=Redhat) from us.
If you are interested, we're happy to help you: "ffv1@av-rd.com"
---
Introduction
As many of you are aware, great progress was made in the last years in regards of professional open source solutions for preservation. One example is the lossless video codec "FFV1": Although existing since 2006, its widespread adoption was not until we've raised funding to test and improve it for long-term-preservation. The result was "FFV1.3" (FFV1 version 3).
Since then, the ecosystem around FFV1 has also been greatly improved by applications such as FFmpeg/LibAV, QCTools, MediaConch, etc. All thanks to project-related funding (and volunteers).
The number of institutions using FFV1 is growing and it is in the process of establishing itself as an open standard for long term preservation. Yet, there is currently no graphical user interface that is easy to use, supports all features of FFV1 and is designed for digital archiving.
Therefore we've teamed up with Anton Shekhovtshov: the developer of VirtualDub FilterMod (vdfiltermod) to fill in the missing bits and pieces.
Planned features include:
Capture and transcode to/from FFV1
Up to 16 bits-per-component RGB/YUV
Capture up to 8 channels audio (SDI)
Also supports: V210, H.264, ProRes, DPX
Container formats: AVI, MKV, MOV
All of these enhancements will be made available under the Open Source / Free Software license (GNU GPLv2). Additionally, those developments will allow for all features of VirtualDub and it's Plugins to be available for editing.
Overall, we believe the community will benefit a lot from these enhancements.
Financial support
If you want to support us, we humbly suggest 500 to 1000 Euros per institution, as we think this would be a fair amount for the work done on the related projects. The intended funding goal is 6000 EUR. Of course we are very grateful for every donation (or users helping out with testing on different equipment). Institutions that contribute 1000 Euros or more will receive 1 month of free 1st level support.
After we've reached our funding goal, excessive funds will be used for further developing and improving the open source archiving ecosystem. (Mainly in cooperation with MediaArea and Dave Rice)
Contact us
If you are interested, please contact us at: "ffv1@av-rd.com"
Thank you very much in advance.
Peter Bubestinger-Steindl
Frequently Asked Questions
Q: VirtualDub runs only on Windows. What about other operating systems?

A: There are plans by BAVC (and existing prototypes) for a capture application GUI for preservation that supports FFV1 directly as part of QCTools. This is a very good thing, but will still take more resources and time until it is finished, tested and stable for production use.

On the other hand, VirtualDub is well known, stable and has been around for almost 2 decades now. Adding the desired features to VirtualDub will provide a useful solution almost immediately.

Since the majority of archives are still Windows users, we are hoping that making FFV1 more accessible to them also makes it easier for others to use FFV1 :)

Q: We're not interested in capture, but transcoding to/from FFV1. Which other video codecs are supported?

A: Almost every codec that the FFmpeg libraries support: That's a very long list ;) And others that are available as Video for Windows (VfW) codec.

Q: What about all other features of VirtualDub, such as post-processing, export a clip, etc?

A: The resulting application will not only look and feel like VirtualDub, but also offer all its features and support existing 3rd party plugins, etc. For example, a popular feature is to set in/out points to export a clip without requiring to re-encode. This saves a lot of time.

Q: Which capture cards are supported?

A: All cards that supply a Video for Windows (VfW) capture driver. We suggest using Blackmagic Decklink cards, as these were used during development and have been tested to confirm they work well with VirtualDub. AJA cards will not work, as they do not provide VfW drivers.